MAPP Annual Meeting
12/10/2020
On December 10th, 2020, over 150 MAPP member companies joined the MAPP team for an update on the industry, suggestions on pressing challenges, insights into the experiences of plastics industry leaders, networking with fellow MAPP members, and MAPP updates to look at for 2021. Review what happened below!
---
Current State of the Plastics Industry

Leadership Reminder

• Pandemic fatigue is getting worse (mental/stress for everyone)
• All leaders active/engaged and taking the pulse of the workforce
• Focus on the work that matters most – finally tackle busyness – focus on adding value
• Recovery is critical to mission effectiveness (people, people, people)

Overview of the industry

1. The industry is beginning to see recovery
2. Some industries are beginning to thrive and see unexpected high levels of demand, while others are struggling
3. Optimism across the industry for what 2021 holds from leadership
4. Concerns over challenges that are outside the realm of control
5. Push for doing more with less

Forecasting Revenue 2020


Level of Operations April – November Trends
Current Level of operations by Sector

Level of Operations – Future Insights

• More than half say that Q4 sales increased over Q3
• Most sales increases happening with new volumes or programs with CURRENT customers
• 56% looking at increased Q1 2021 sales
• 83% believe sales will increase over the next 12 months
• 65% capex will increase in 2021, investing in primarily primary machines and automation

Quoting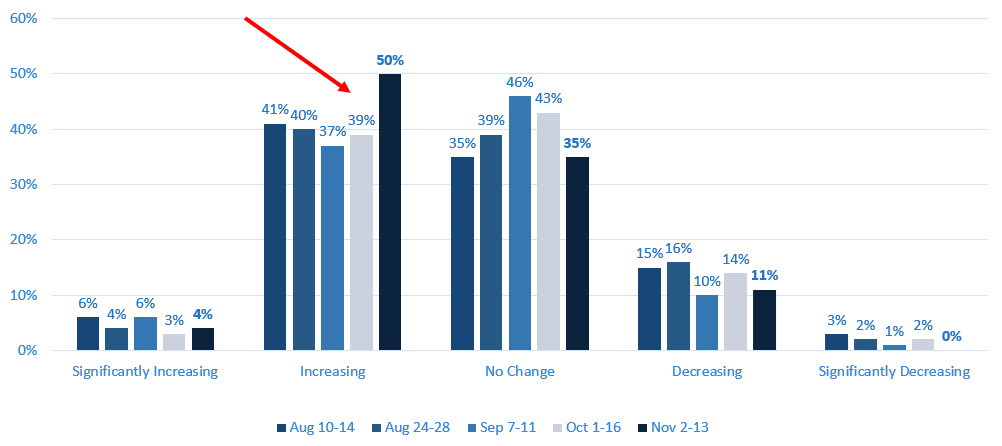 Backlog of Orders

Outstanding A/R

Line of Credit/Cash on Hand

Overall Industry Optimism over Period

Optimism through the end of Q1 2021
---
Detailed Insights on Pressing Challenges

Polyethylene Market
A contract dispute resulted in Mexico's natural gas company, CENAGAS, cutting off the ethylene plant's gas supply and shutting down the entire PE facility. The duration of the FM is not certain, nor is the extent of the shutdown damage.

North American traders and suppliers have depleted excess LDPE and HDPE supply for export into Mexico and Latin America. North American secondary market prices have increased with limited availability.

Short-term contract prime market prices for December will firm higher. Expect suppliers to attempt an implementation of the pending December $0.05/lb. increase.

Global prices of LDPE and HDPE have been increasing over the past 60 days due to limited import availability into China after production problems in Iran and reduced NA imports in Q3.
Inventory should return to normal in early 2021 and prices should gradually return to normal soon after.
Polypropylene Market
The market is facing big challenges both from the feedstock side and the polymer side. There have been several plant outages, planned and unplanned. Also seeing challenges with Propylene yield at the refineries, which is where about 55% of the supply comes from. Also seeing lower propylene yield from the other suppliers. Right now, it looks as though the contract PGP price could increase 10 cents a pound, give or take.

Polypropylene demand is increasing as well, mostly from the automotive industry. These demand increases mainly stem from organizations trying to build up their inventory to pre-pandemic levels. This demand surge will most likely not last through Q1 of 2021.

There might also be another 4 cents a pound of margin increase for polypropylene itself. The suppliers have the pricing power, but with the market already increasing the price by 10 cents, they may not be that aggressive and could opt for a partial increase of about 2 cents.

ABS Supply/Demand/RMC
NA demand in Q4 2020 exceeding demand in Q4 2019 significantly. Strong demand in Asia along with supply chain constraints raise prices.

Producers having difficulty keeping up, particularly in compounds due to:
• Pandemic shutdowns
• Inventory reductions
• Reduced op rates

Raw Material Costs return to Jan 2020 levels due to demand, supply constraint & optimism

PA66 Supply/Demand/RMC
The situation is very similar to ABS. Raw material costs returning to Q1-20 levels in Q1-21 on demand, supply constraint, and optimism.

PolyCarbonate Supply/Demand/RMC
PC is more restricted on the compound side. There are more moderate price increases in the US as compared to Asia.
Question:
Does our competition in Asia have similar cost hurdles?

Asia has bigger hurdles. Their demand has been strong since the summer, and they have had their share of plant outages and maintenance same as US. Overall, both regions have similar issues and will recover around the same time.
An issue that has recently surfaced that has added to lead times is the lack of shipping materials such as containers. Can RTI comment on that?
It's a problem that has arrived since Covid has hit. There are many containers in different locations than usual and need to be moved back now that things are returning to normal.

Handling Unforeseen Business Circumstances

Benesch has noticed a willingness of customers to have portions of their forecasts more binding, so they'll extend it out to 90 days and possibly even 6 months. This helps the processors by allowing for more time to plan for material as well as protecting the processors from any kind of backing out of deals made.
A deal that is popular is the customer, if they would like to leave the contract, must buy the material for said contract when they leave. On the flip side, the processor cannot use the material for another job and must use it only for this job. Both sides are protected from material issues.

On price adjustment provisions, you should be updating pricing every year minimum and preferably every quarter. Especially now, prices of materials are volatile, and adjustments must be made or you will be hurting yourself.
Business interruption insurance is highly recommended going into the future. If your customer is knocking on the door claiming you are liable for the loss in revenue, the insurance will cover that if you trace it back to an interrupting event out of your control.

Provide notice early and often. Send communications ahead of time whenever you see potential interrupting events. Even letting the customers know that the event "might" interrupt business is better than leaving it alone.
Lastly, treat all customers equally. The biggest customers will try to gain favor, but you will only open yourself up to danger from the other customers.

Cyber Insurance is also incredibly important. A MAPP member very recently lost over a million dollars, and other members have had shutdowns due to cyber-attacks. When it comes to payment, the safest option is to call and give the info.
---
Experiences of Industry Leaders

Glen Fish – Revere Plastics
Appliance Industry is their main industry served. The industry saw a bump in demand from the societal effects of the pandemic. The forecast for 2021 is very strong as long as the supply chain corrects itself. The company has facilities in different states, so they heavily relied on communication. Luckily, Fish had attended Thayer Leadership Training through MAPP and was able to apply the learned lessons and experience, such as the Leader's Intent, to this global pandemic. The company focused on the short term mission and was able to push through effectively. When there are a million fires starting all the time, it's important to take time to recognize your team, to show gratitude, reevaluate your efforts, and refocus on the right things.

Mark Murphy – PRD
PRD is producing 80% automotive parts and specialize in automotive lighting products. In the automotive industry, things are looking better going into 2021. From a financial standpoint, PRD will want to manage cash flow and stay low on debt. With capital expenditures, PRD is looking to reorganize or look for alternative ways to improve as opposed to investing in new machines. Lastly, they are looking to stay competitive in wages and looking into more automation. Through the pandemic, timely communication and transparency were paramount. Creating a plan but allowing it to be flexible was important. As a leader, it was challenging to handle both sides of employees, those that were fearful and those that wanted to get on with work regardless.

Josh Janeczko – i2 Tech
The biggest lesson was the ability to react quickly to changes in the needs of stakeholders. There was a ton of uncertainty and needed to make big decisions with little to no data. Gaining market share during the pandemic came from reacting faster than competitors. Janeczko focused on videos to talk directly to the employees to eliminate confusion and promote transparency. i2 Tech will be aggressive in 2021 and will focus on organic growth using automation. They purchased several automation machines this year and will have more on the way soon. If you position yourself with more capacity, you will be able to fill it moving forward as the markets return to normal and grow in 2021.

Dennis Prischak, The Plastek Group
The company serves a large variety of industries. Most noticeably, they saw a big hit in cosmetics. With the other industries, they were considered essential and were able to continue production.
Communication is key, especially with how rapidly things were changing. When the employees came back, they were very appreciative of the financial and safety support from the company. Going into 2021, the business is stronger, and the outlook is very positive. Continuing to promote communication between the facilities.

Dean Lail, Sapona Plastics
The company primarily serves the telecommunications industry, which got a bump during the pandemic. One big lesson was that you cannot rely on a single piece of business. They have seen a decline in personal care production, mainly due to pandemic restrictions, and lost a big customer to a Chinese facility, but this freed up space allowed for some overflow work from other molders. It's also important to have succession planning and to invest in younger employees. Looking into 2021, Sapona Plastics is very positive because of their diversification. They are seeing mold sales grow and some customers expanding products.

Tony Cavalco, Nicolet Plastics
Nicolet Plastics had a huge increase in one customer that made up for the loss of business from other customers. Echoing previous leaders, communication and transparency was incredibly important. Moving forward, Nicolet is going to be looking into communication methods focused on all associates at once. Having multiple facilities makes all-around communication difficult, but will be important going into the next year.

Michael Cirone, GTR Enterprises
They had a ton of customers shut down in aerospace, transportation and automotive, but they have come back in Q4. The company has bounced back and is looking very positive in 2021. They are making internal improvements in the tooling and processing departments, as well as using Routsis for training.

---
A Look Into The Future of MAPP

MAPP Dues Changes
• Changes go into effect on January 1st, 2021
• Expanded and increased dues levels
• These changes DO NOT affect members who are current and stay current
• Reward our long-term and dedicated members with a grandfathered rate

MAPP Health Insurance Solutions Platform
• Captive Funding Arrangement
• Advisory/Consultative Services
• Lower Cost Strategies

2021 Events Members Won't Want to Miss!
• Benchmarking and Best Practices Conference
• Additional Peer Networking
• Sales Process & Marketing Forum
• Tour Across America: Virtual Plant Tours
• Quality Management Forum
• EHS Summit

Thayer Leadership
• Designed to equip you with the thinking, the character, and the tools to become a better leader.
• Designed for mid-to-senior level leaders
• Begins February 10th
• 18 sessions over 14 weeks

Powerhouse Groups
• Exclusive for Presidents, Owners & CEOs
• Dedicated, Small Working Groups
• Curated based on detailed application system
• Monthly meetings
• Limited Spots Available
• Applications Accepted Through January 15

Mentorship Program
• Over 20 Mentoring Pairs connected in 2020
• New cycle beginning in February 2021
• Applications open all year but only two distinct times for pairing in February and August

MAPP Website Updates
• New user-friendly Cost Reduction Program area
• New Best Practices Page
• Find a member search area update
• General facelift to make benefits easy to find

Education on Member Benefits
• How-to videos
• Member 101 page

2021 Benchmarking
• State of the Plastics Industry
• Healthcare & Benefits
• Engineering Services
• Wage & Salary
• Machine Rate
• Additional focus: operational & financial benchmarks and benchmarking collection opportunities

To view the recording of the annual meeting from the beginning to the experiences of industry leaders, click here.