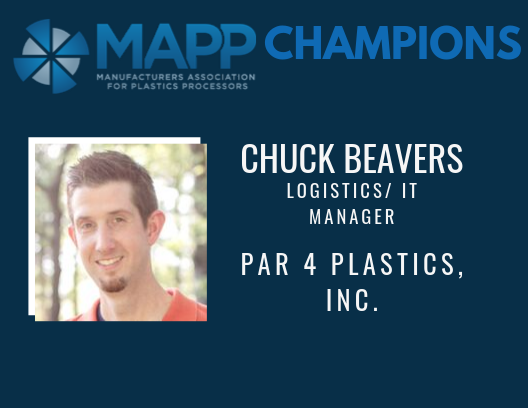 Chuck Beavers, Logistics/IT Manager
Par 4 Plastics
Alma Mater: Mid-Continent University
How did you become involved in the plastics industry?
A friend and colleague recommended I apply. I've always been involved in manufacturing, just never in plastics until working here. I love seeing how "stuff is made" from start to finish, and plastics is a great way to see that happen.
What is your favorite part about your current role?
Being involved in all aspects of the business. With Supply Chain & Logistics, you're responsible for the "in and out" of the business.
What has been your proudest moment at your current organization?
My proudest moment has probably been when an employee who used to work directly for me was moving on to another opportunity, told me how much they have learned from me, how I helped develop them as a leader, challenged them to become greater, and how much they appreciated me!
At work, what are you most known for among your colleagues?
I am not sure, maybe helping our company recover from a cyber-attack at then end of 2017.
How do you define success?
Definition of success is a very hard thing to describe, but yet easy in the same token. If you can live your life being happy with where you are, your lifestyle, your family, etc. then to me that is being successful. Some will say that being successful is having a big job, or big house, or lots of money. While others enjoy contentment of life being exactly where they are with who they are with. With that being said, success can be a journey. With each success in life, can come another expedition. To me, being able to provide for my family, living life with joy, being able to see past all of the negativity, and becoming the best "self" in every day walk of life defines success.
What book are you currently reading?
Extreme Ownership by Jocko Willink and Leif Babin
What other groups or organizations are you active in?
Vision West Kentucky which is a YP group formed in my hometown. I am also involved in my local church in several groups, along with coaching my sons sports teams!
What is one thing about you that others would be surprised to learn?
While I am competitive by nature, I don't want to "win" against my colleagues. I want to help my colleagues reach their potential. I will take a step back, to help them take a step forward. If you can truly get your "teammates" where they want to be, push them to their own success, then I feel like that is when you truly win as an organization.
If you weren't in the plastics industry, what would you be doing?
I would be involved in some sort of manufacturing more than likely. If not, and money was not necessary, I would open up a large farm with ponds & woods for fishing and hunting. I would sponsor kids who have never been hunting or fishing, allow them to come for free. I'd also set up hunting for veterans, wounded warriors, or those with special needs to come and hunt for free. Just some way to give back to the community.
What is your favorite thing or story about the MAPP organization?
What goes on in the YP group, stays in the YP group! Just kidding...I would say the camaraderie that we have, we truly like each other and enjoy working with each other. One time, I asked for Chick-Fil-A at our board meeting, and boom they brought Chick-Fil-A!
How have you received value from the MAPP organization? What are the greatest benefits you currently receive?
Benchmarking and Networking are second to none. I feel that each of the plants involved have capable individuals which helps each of us push one another along to become better employees for our respective companies.