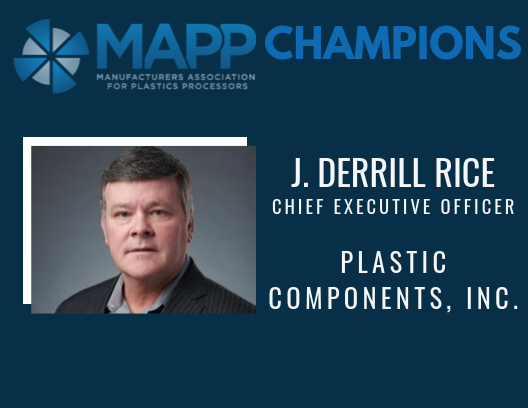 J. Derrill Rice, CEO
Plastic Components, Inc.
Alma Mater: Clemson University
How did you become involved in the plastics industry?
I joined a harsh connectivity components and connector company in 2009 while working in Asia in the textile industry.
What is your favorite part about your current role?
Relationship intimacy and engagement with employees, customers, suppliers, and industry leaders.
What has been your proudest moment at your current organization?
Watching our leadership team transition from individual ownership to institutional ownership (PE) with excellence.
At work, what are you most known for among your colleagues?
I asked the team: "leading with humility, dedication, and appreciation".
How do you define success?
Creating value in the business, successfully developing people, and balancing it all with family and friends.
What book are you currently reading?
The Speed of Trust by Stephen Covey.
What other groups or organizations are you active in?
MAPP, Wine and Hospitality Industry, KAO Educational Foundation, International Brotherhood of Magicians, Church.
What is one thing about you that others would be surprised to learn?
I won the National Association Strength Athletes (NASA) national meet for my age and weight class during my 40's.
If you weren't in the plastics industry, what would you be doing?
The same thing that I am doing now (leading an organization) just in a different industry.
What is your favorite thing or story about the MAPP organization?
The open and inviting environment for networking and benchmarking with industry peers.
How have you received value from the MAPP organization? What are the greatest benefits you currently receive?
Networking and benchmarking with industry peers.